Group Therapy Where The Magic Happens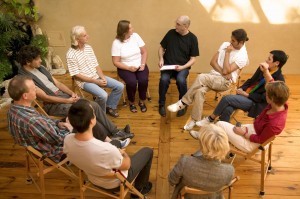 Group therapy takes on its' own identity. First, let's talk about therapy. Therapy is many different things to many different people. One thing everyone has in common is they want to live their life in harmony. There are often challenges in ones' life such as depression, anxiety, self-esteem, and posttraumatic stress. The more diversified the group is, the more they represent the country we live in. How we learn to live within society, is what group therapy is about. In group therapy, we tackle different stumbling blocks in a safe, non-Judgmental, and confidential environment. In group therapy, social biases often come in to play and people realize they are having similar issues as others. Group therapy is about helping and sharing knowledge. Everyone has something to share or maybe you just want to listen. In group therapy we learn that it is ok to disagree while still respecting others' beliefs. It's not about changing others beliefs, it's about working on your own behavior. What's keeping you from reaching the harmony in your life? What better way to work through your issues than within the diversity of a group? Is your goal to have balance in life? Then group therapy is where the magic could happen.
Group therapy works for adults, adolescents, and couples. Adults often face life challenges such as raising families, job related issues, dating, and economic issues. In groups we learn how society plays a role in how we view different issues. A parenting group may offer you solutions on ways to deal with family issues. In groups you may be surprised to find out how the economy has affected everyone in some way. How the media has changed the dating scene. In adolescent groups we often face issues such as bullying, peer pressure, drugs, alcohol, and gangs. The rate of bullying has continued to climb; 90% of all adolescents either have been bullied or know someone that is a bully. Couples groups often focus on relationships. Couples may or may not be heterosexual – it's about the relationship that makes that couple.
Groups are about learning from your peers. It's about respecting someone else's opinions and learning about the world we live in. It's where the magic happens. There are many groups and support groups to choose from. Release your magic and grow as part of a group and watch your life change.